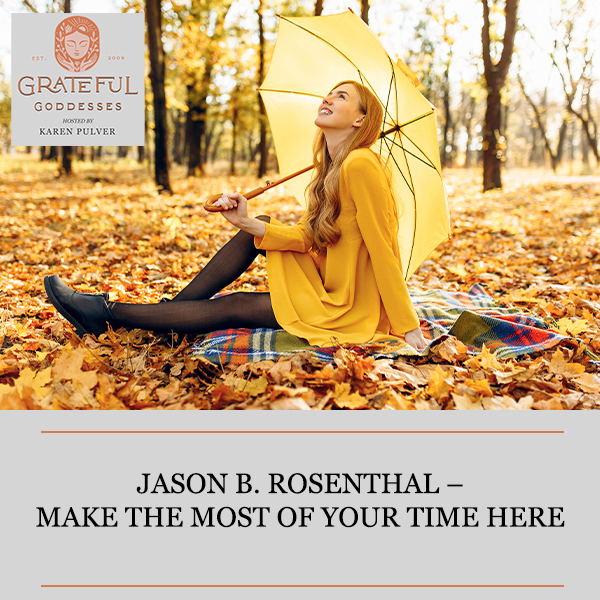 Jason B. Rosenthal – Make The Most Of Your Time Here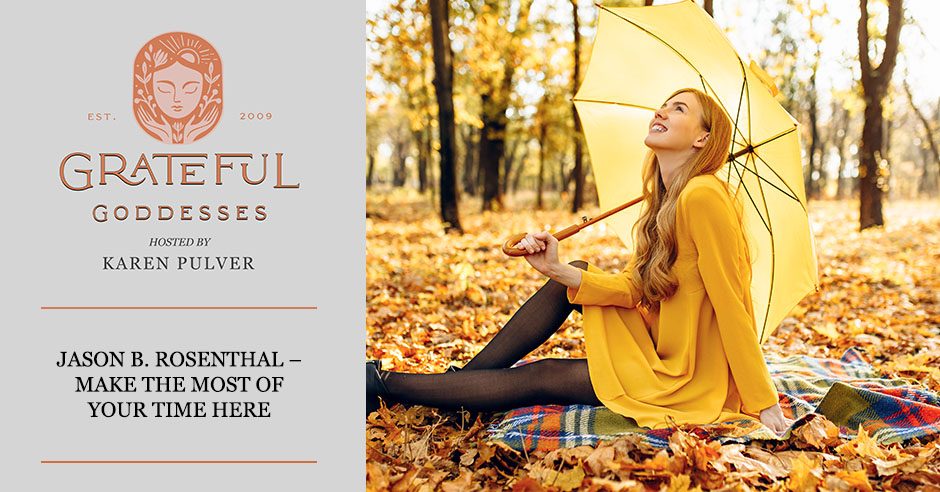 We are all on a journey of self-discovery and part of that is making the most of the time we have with the people we love. Death and loss are a part of that journey and can reveal things we never knew about ourselves. Jason B. Rosenthal is an author, foundation board chair, public speaker, and lawyer. You may have heard of him as the subject of an essay written by his late wife, Amy Rosenthal, called You May Want To Marry My Husband. Today, he joins Karen Pulver and Goddesses Alyssa and Dena to share how he navigated through life after Amy's passing and the lessons he conveyed in his book called My Wife Said You May Want to Marry Me. Listen in on this inspiring and beautiful discussion on love, loss, grief, and moving on.
—
Watch the episode here
Listen to the podcast here
Jason B. Rosenthal – Make The Most Of Your Time Here
Welcome, everyone. I'm grateful that you're here. We're all on this yellow brick road and we're all on this journey to find love, knowledge, our way home and the courage in life. It can be hard. We come in contact with wicked witches and the poppy field. We fall asleep when we don't have energy. Just like Dorothy in The Wizard of Oz, we have to learn from Glinda the Good Witch that we had the power in us all along. We had home in us all along.
We had love, courage and knowledge. We had these answers and these qualities inside us. We just needed help to tap into them. Dorothy had Toto, Glinda, and the Munchkins to help her. We have each other. We have this Goddess community that you come to and listen to. We are here to empower and inspire you.
We listen to stories of people's journey on their yellow brick road, and perhaps the roadblocks they encounter and how they've lifted themselves up. They never had to go to The Wizard to find the answer. They realized on their own that it was inside of them. We are going to hear about a yellow brick road story. In fact, a yellow brick road story holding a Yellow Umbrella. It is our guest, Jason Rosenthal.
Jason Rosenthal is an author, Foundation Board Chair, public speaker and lawyer. He's also the subject of an essay written by his wife, Amy Krouse Rosenthal, called You May Want to Marry My Husband, that went viral and was read by millions of readers worldwide. Jason was married to Amy for 26 years before she died of ovarian cancer at the age of 51. On Amy's last Valentine's Day, the New York Times published her modern love piece, telling the world that she soon would die of cancer, and that her beloved husband deserved another shot at happiness. The love letter was printed ten days before her death in 2017.
Since Amy's passing, Jason speaks about getting in touch with real pain and how his loss made him re-evaluate his life's work. Jason has talked for years about whether his chosen career path gave him real fulfillment. He is now the Executive Director of a non-profit organization created in Amy's name, The Amy Krouse Rosenthal Foundation. He is fueled by its mission to provide programs that encourage child literacy and funding for the early detection of ovarian cancer.
On Father's Day in June 2018, Jason Rosenthal publicly responded with his modern love column titled My Wife Said You May Want to Marry Me. Since his wife's passing, Jason shares how he has been coping with her death. He is grateful for his wife who not only gave him decades of happiness but permission to find happiness after her death. Welcome to the show, Jason.
Thank you for having me.
We all go through the process of loss in different ways and take our path in our own way- take as much time as you need to grieve.
Click To Tweet
Can you relate, Jason, to any of the characters in The Wizard of Oz?
Dorothy's tenacity and her ability to overcome lots of obstacles and get to where she wants to go resonate with me.
I talk a lot about The Wizard of Oz because I feel like I'm on that journey and we all need the support of others. When I was listening to your TED Talk, to Amy's TED Talk, looking through all of the wonderful movies that she did and her talks, I realized that many of her lessons can be seen in the different characters. When she talked about the magic, the serendipitous moments and fear, I thought about the Lion. She talked about walking through fear and not around fear, and that the Lion has to just go through it. All of the amazing stories that she tells can relate.
I wanted to share with you that I'm wearing a ring that was inspired by your late wife, Amy. When I would see her in the neighborhood writing her stories at Starbucks or Julius Meinl, which is a coffee shop up the street, she was wearing this necklace. It was clear like a snowdome. I don't know if you remember that one. I said to her, "That is so beautiful, whimsical and magical." This was a few years ago. I ran out and I found this little snow dome ring and I wear it. It's inspired by Amy. Can you tell us more about your late wife, Amy Krouse Rosenthal, a little bit more about her personality?
I'd be happy to share it and I enjoy talking about her. It helps makes me feel good. It brings my heart open now. It used to be a little bit more painful. Now, I'm with some space and sometimes it feels good to continue to talk about her. The word that always comes up when I talk about Amy, even though it sounds a little bit cliché, is the word creativity. I don't mean that in the sense that, "She was a creative writer," which she was. She lived to create. Whether that was in her personal life or her professional life, it was in her DNA.
That came out in the way of writing these beautiful children's books, adult memoirs, creating these incredible films, some are whimsical and some are really meaningful films, and doing public talks to children and adults. That's what I think about when I think about her. The other word that comes to mind, which is important because I learned a lot about this from her, is that she was incredibly kind. She wasn't kind to get any accolades for being kind or anything like that. It was natural to her. She did things for people and sometimes they didn't even know she was doing it. That is the way she lived her life.
I mentioned before in this show that I'm practicing yoga with her in your home. It was Ashtanga yoga and it was a small group. She was so kind. She invited me to try it. She and her friend were making these poses so effortlessly and I would be struggling. After class, she touched my arm and she said, "It's okay. Here's a book, go home and practice. You'll get it." She was encouraging and supportive. I do remember that about her.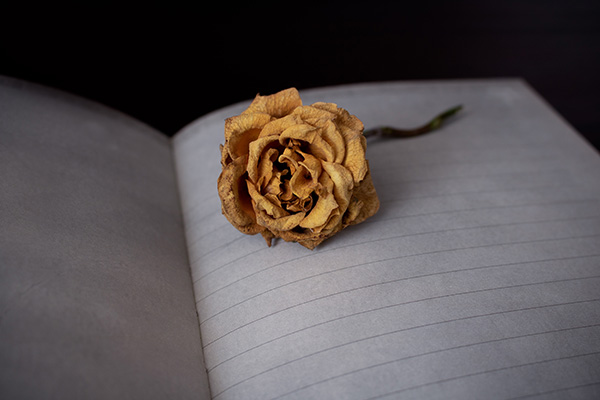 I originally practicing yoga with Amy. I was very intimidated because she started before I did. I couldn't even touch my toes. It was a learning process. We had a lot of fun practicing yoga together and traveling to practice yoga. It was a big part of our life.
I'd like to welcome our featured goddesses, Alyssa and Dena to join us in this conversation with you. Dena herself has suffered through loss. We talk about this on the Goddess show quite a bit, and how her stages of grief and how she's dealing now. She remarried, which is beautiful. She has some questions for you about loss specifically.
I get to be part of this icky club but yet we learn a lot as we go through it. Like you, I certainly try to live my life better, fuller and as best as I can every day. Although there are those times I get caught up in the day-to-day and don't always do my best. I know that we share something a little bit in common. I don't remember where in my husband's illness we were but it wasn't at the end. He said to me that I would want to get married. I said, "There's no need for that." He then went on to tell both my mom and his mother that whoever I picked, they need to embrace and allow their door, etc. I believe that it helped me move forward. Having that message, that little angel on your shoulder saying, "Go on and do this." Can you talk a little bit about that and how you felt when Amy made a public declaration to you, even the world?
We as a society avoid the subject of death, however it is important to talk about death with a partner, now while you are alive.
Click To Tweet
I'm feeling a little emotional, just seeing you and hearing about your husband. I knew him and what a terrific guy he was and how important he was to my brother-in-law, Joe. Forgive me. Here's the thing. My path forward was made a lot easier by Amy's very public gift to me. She said clearly to many millions of people all over the world that here's this guy out there and, "Jason, it's okay. You're going to be okay. You're going to find love again, and please do that for me." I don't know what it would have been like, to be honest with you, without that tremendous gift. I think about it often. I can't tell you how much that meant to me to have those words.
I feel the same. When people ask, I don't have the answer because I only have it this way. I don't know what it would have been like to not have that gift.
It's interesting because my husband and I have talked about it. When I had my cancer diagnosis and I wasn't sure what was going to happen. I caught it early by the way. Through your mind, it goes through the worst-case scenario. I said, "I want you to find someone right away." He said, "If I die before you, I want you to wait a year."I said, "Why am I giving you permission and you're giving me a year?" He's like, "I want to make sure that the kids like him, etc." It's funny though. We watched your TED Talk and I said, "You need to give me permission right away. I don't want to have to wait a year. Of course, I'll take my time in grieving."
What I've learned because of all of the things I've done publicly, I've had so many people reach out to me in different ways and different forms of loss. The lesson I learned pretty quickly is that we all go through this process in a different way. I know there are those well-known stages of grief, which I don't think that I subscribe to, but we all have to take this path in our own way. Take as much time as you need to grieve because that's going to be different for all of us.
Alyssa has a question related to that too.
Everyone grieves in their own way or most of us. It's a very private thing with ourselves and our family. In the Jewish religion, we have Shivah where we have our closest, nearest and dearest commons physical with us for however many days you decide to do that. Yours was just very different. In addition to being surrounded by your closest family, friends and children, you were thrust into this public limelight where it was several days or a couple of weeks after Amy's passing that this article hits.
The world then knows who Jason Rosenthal is. If they didn't already, they know who Amy Krouse Rosenthal is. I wanted you to talk a little bit more about that. Do you think that was part of Amy's goal in some ways, not just this beautiful love letter to you and this permission that she gave you to go and have this beautiful life and find love again, perhaps? Do you think that was also part of the goal there or the mission to have the world embrace you in that way?
I think about it a lot. The essay came out ten days before she died. She was unable to process the amazing response that it got. I can talk in detail about whether I even thought the essay would be published. Even though I'm living with a successful writer, you never know. I certainly had absolutely no idea about this kind of response that it would get. I do think that on some level she knew where she wanted it placed, who will read that column, and that it would be widely read. She did know that it was going to put me in this position. Who could have anticipated all of the responses that it got?
I was thrust immediately into the public's perception. At the same time, I was overwhelmed with my own personal grief for quite some time. It took me a while to process all of that myself. It wasn't until I was asked to do that TED Talk that I started to ride it and process it. After it was delivered, that's when things started to become extremely more public.
When I look back, in answer to your question, in anticipation of this thought, I realized that it was only less than two months after Amy died that I was sitting in Los Angeles, California in front of ten of the most powerful Hollywood producers in the business. I can't even believe that. It was almost a fog. There were those moments where it was pretty overwhelming.
Some of the responses were actually quite humorous. I know you've talked about this publicly. Even children are reaching out on behalf of their single parents or other people, women from around the world. They made you laugh. I have to think that to have that joy during that time even for a moment must have been such an additional gift from Amy.
It was. I got a lot of people and women reaching out to me with proposals and things. The bulk of the responses that I got from her column and from my work are beautiful. Connecting with a stranger who is similarly going through the loss of any form was important and meaningful to me to connect with people that way.
ATM- Always Trust Magic (Amy Kraus Rosenthal)
Click To Tweet
Interestingly, Amy talks so much about connectedness in her own TED Talk. That was one of her original missions with that great Millennium Park, the origin of the Yellow Umbrella, and how many people showed up to support her. The connectedness seemed like part of her goal. That's incredible.
It was definitely a ripple effect. I couldn't help but think too. I did attend the memorial at Temple Shalom. That was packed, standing-room-only type and hearing your children talk about their mother. What I loved about it was the celebration of her life. There was a Shiva and the Synagogue, etc. You talked in your TED Talk about death, and how we're afraid as a society to talk about death while you're healthy. You went through birthdays and we have these big celebrations. Birth death is sad but just really celebrating a person's life. Can you talk to us more about that term?
The point being that in this country and other countries but primarily here, we are very uncomfortable with the subject of death. We avoid it. Part of my work moving forward after Amy died was to say, "I went through this process, which was really difficult." I'd like it to be a little bit easier for people and acceptable to talk about the end of life. Let's face it, that's where we're all headed, whether we die prematurely or live a long healthy life. I was very impressed by what you said about your ability to talk to your husband at this point about some meaningful issues. I've been trying to encourage people to do the same thing. It's super important. In the past few years, as bizarre, difficult and painful as they have been because of the pandemic, we've connected a little bit more with what loss really means.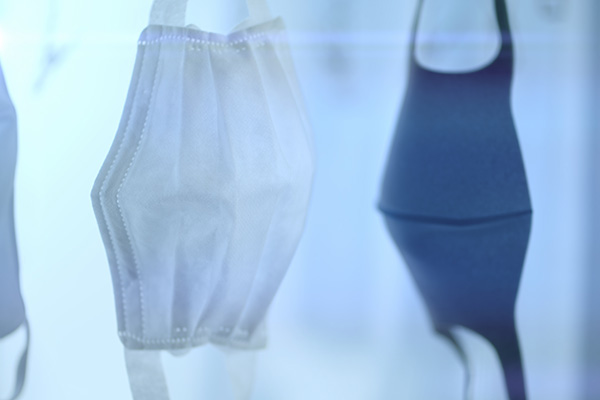 People losing their jobs and losing control, feeling that feeling of loss of control in all areas of your life, you can either give up and curl up in a ball or you can take a step, control what you can control, and embrace what you can't. We talk about that a lot on the show. Alyssa, you wanted to ask about Amy's mission.
Tell us about the Amy Krouse Rosenthal Foundation. It has two goals that are very near and dear to Amy's heart, children literacy and ovarian cancer early detection research. Can you talk about how that whole organization was founded, your role in it and what it's doing? Let's share with our readers the upcoming Yellow Umbrella event.
After Amy died, I knew that I wanted to do a couple of things. One was to start a foundation in her memory and honor. I served on a board in my early twenties but I didn't know what I was doing. I threw together this amazing board of directors and we started this foundation. Our third annual benefit is coming up in October 2021 but it's a dual mission that's important to Amy and our family. One is to raise awareness of early detection of ovarian cancer.
The other aspect is child literacy, and we've been so blessed that we've donated hundreds of thousands of books at this point to kids in need all over the country. We are now in our 4th or 5th researcher who has been issued a grant because of our foundation who's doing some great work in the area of early detection. We hope one day that we want to have this foundation. It's been wonderful and meaningful work. I happened to bring the invitation. We have an event coming up on October 14th. It's our third annual benefit and we have some wonderful performers. It's now in our third year. You'll see a lot more content on what we're doing with people's support.
Will it be virtual, in-person or both?
It's virtual again. It worked well in 2021 and we just had to make the call early on to do it virtually.
Hopefully, a lot of our readers will be able to attend from all over the world. That's very exciting. To go back to this whole concept of the Yellow Umbrella, as Karen said, it's one of the many whimsical things that she did. I loved the idea that it was on August 8 of '08 at 8:08 PM that she decided to have this event here in Chicago at Millennium Park, which is such a notable gathering place and create things together. As we talked about, she was so creative and you said she lived to create.
Together with this feeling of connecting with people, how amazing it is to bring together a bunch of strangers from all over a big city and make things. They made some cool things like splashed in the water of the fountain, went up and made a stranger's day, and did all these cool and amazing things almost as the light was setting. What a beautiful thing. To find her, she brought a yellow umbrella and I'm sure it would have been hard to find her. She had a camera with her. The Yellow Umbrella became this amazing symbol of all the work that she did. That's why it's great that you're doing these Yellow Umbrella events and carrying it through. I know when she passed, a lot of people had yellow umbrellas that they were surrounding our neighborhood with and in your front lawn probably.
She talks about not having the Yellow Umbrella planned out when she went. She didn't plan them. It reminds me of the Scarecrow wanting to know all the answers. She's like, "Figure it out as you go. It's okay. We don't all have to be this brainiac like know all the answers. Life will take us there in the serendipitous moments that we have." Dena was telling us of a serendipitous moment that's related to her husband. Do you know what I'm talking about?
Is it being at the fraternity house? Which one?
That is one.
I tracked my daughter. She's at Michigan, just started. She's tailgating and this is the first time that this fraternity popped up. She's apparently at her father's fraternity house.
You talked about Amy's article being published on your husband's birthday.
The New York Times article was published on his birthday.
I can't believe your daughter is in college. That blows my mind.
Dena, you found love again and you remarried.
'Pay Attention to what you pay attention to' (Amy Kraus Rosenthal) – Try to appreciate something beautiful every day, it is simple but powerful.
Click To Tweet
I did, but I wanted to go into stuff. I wanted to ask Jason. This just came through my head. There seem to be so many mantras that Amy has put out there. I wonder if there's some that you and your family live by. I know the one that I tried to live by is to make the most of your time. I instill that in my family. I could do better with that as well. The legacy is deep. There are so many things but highlight a few faves.
The theme of our party for 2021 is ATM, which Amy made a short film about. It's Always Trust Magic, which I love. The other thing that's simple but is very powerful is to pay attention to what you pay attention to. For me, that means some of the things she describes that we have limited time on this Earth. Why not try to appreciate something beautiful every day? That's simple and incredibly powerful. I try to do that like, "That is a stunning tree out my window that I'm looking at. How many days will I have here to look at a tree like that? It's little things like that.
You could look outside in Chicago and say, "It's cloudy. It's going to rain or look at that tree." I love that. I was saying before that Dena has found love again. She had a question for you about finding love again.
Everyone wants to know where you're at. When you sat down and realized that Hollywood was looking at this love letter that she wrote at the New York Times, who's playing you in the movie?
I can't give you any details. I have no idea. This Hollywood is a weird world that I don't understand. There's really nothing to report other than the fact that they claim to still be interested and there's a screenplay. We'll see what happens.
They got made. It was great.
It was wonderful. Jennifer Garner herself is just right. The way she appears is really who she is. She's a beautiful human being and honors Amy's work. What was your question?
Where are you? What's your love life looking like?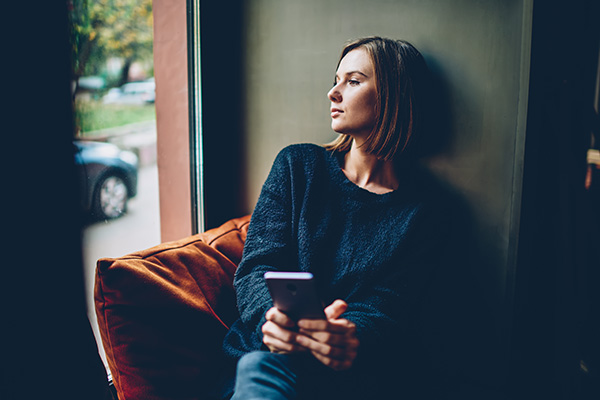 I want to start by saying that in my book I write about what it's like for someone like me to even enter the process of thinking about being with someone again. Not just men but many of us struggle with what that's like. This was totally unexpected. I hadn't known how to navigate that world in three decades. I wanted to touch upon it in the book, to be honest, but that's part of the process. Where I am now? I'm in a wonderful meaningful relationship and I feel really lucky.
We're so happy for you. If anyone wants to contact you, get in touch with you or reach out to you, how can they do that?
I have a website, JasonBRosenthal.com and I'm on Instagram. I'm a little less active than some people but it's @JasonBRosenthal.
Thank you, Jason, for sharing with us your beautiful story, and teaching us how to tap into all of those qualities that we had in us all along. I hope that you continue on your yellow brick road with your Yellow Umbrella, and help inspire others as you seem to continue to be doing. Thank you for joining us and we're so grateful to you.
It's great to see all of you. Thank you for having me.
Thank you.
—
Welcome, everyone to Grateful Goddesses with Jason Rosenthal, our guest. This is like an adult show and tell. I am a preschool teacher. I've read many of Amy's books to my 4 and 5-year-old. I've seen the impact that her stories have had on the children and on myself. All those books are my favorite things. What we do is we will go around just like you were in preschool. We will have an adult version of show and tell because it's important to focus on what brings you happiness and joy, and hearing what one person's favorite that you may want to take on and try. Why not? It's all about having fun. One of my favorite things is my roller ball lip. I may have mentioned this before but that's okay. I don't know if you remember this from the '70s. It's bubblegum. Do you remember the gloss? Because you kissed a lot of girls, right, Jason?
I was going to say I remember how it tastes but I don't know if that's appropriate.
Is it a Bonnie Bell?
I think so. Maybe not this one but it's similar. I love the gloss and feel. I love the nostalgia because it brings me back to those days of the '70s and thinking I was so cool with my roller lip gloss and also my Loves Baby Soft perfume. Did you all own that? Alyssa, what did you bring to share?
Fill the 'blank page' with meaning and purpose... find love, happiness and appreciate every day.
Click To Tweet
I'm going to share two things because it's appropriate for the day. One of the programs I've been watching is the Modern Love vignettes that they've been putting out on Netflix. It's inspired by these Modern Love columns that have appeared. It started up again with another group of them, but there are a couple of seasons and each one is more beautiful than the next. We just talked about the Minnie Driver one that appeared about losing a spouse. They are beautiful stories. I have a tissue box next to me for each one of those. Those are beautiful. I don't want to share that.
The second thing is more tangible. It's a necklace that my mom gave me. My dad gave it to her many years ago. My dad passed away a few years ago but this has her initials on it. My little secret in a little compartment in here is a black and white very old photo of my dad. She put it in when he gave it to her. I brought this out and I've been wearing it. It makes me think of him and I love the little hidden gems. That's my favorite thing.
It's always nice to have a token from someone who has passed to continue. Dena, what did you bring along?
I had to bring all my Amy and Paris' Little Pea, all of them. I can't pick one. I feel so attached to these books. I don't know how many times I've said in this show that this is family to me, these people that we're talking about. I do have a signed copy from Amy. This is very near and dear. I've told my children many times, "Do not get these thrown away from your bookcases." We were at the launch of Paris' at the Paris Club, and I'm fortunate also to have a signed bestseller in my home. These are near and dear and special. I look at them often. Thank you, Jason, for allowing me to be a part of this legacy. It means a lot.
What I love about her children's books is as a teacher, when I'm reading the stories, they are so fun for adults to understand all the underlying themes. She was so good at that. She was so good at looking at words, mixing them up and turning them upside down. What a mind for that.
I gave this one to my daughter when she graduated. I thought it was perfect.
I gave that too to the three children that I taught in 2020. I had a preschool in my basement. Because of COVID, I didn't go back to school. I gave them all that book at the end of 2020.
That book has been so meaningful to many people. It exhilarates every graduation season. It's not just a children's book.
Jason, it's your turn to be at our show and tell circle. What did you bring?
One thing I was going to bring but it was too big and Amy would have been mortified. If you recall in one of her books, she wrote a short essay about how grateful she was that her husband didn't play golf. Now, I'm a little obsessed with the game, so it's come full circle. I left my golf bag in the other room. I brought this which is an R. In the back, Amy inscribed it with all of our names. In my book, I wrote a little bit about its significance.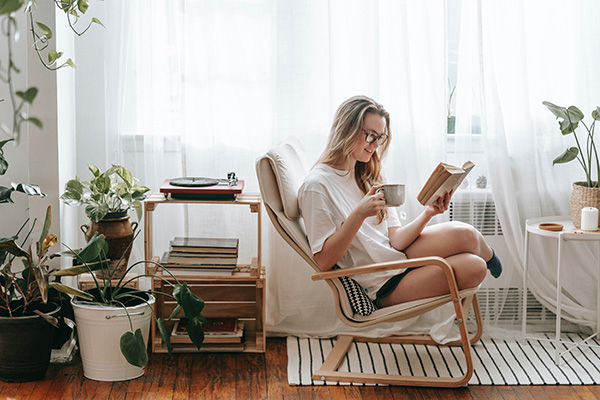 Every Shabbat dinner on Friday nights, we would gather either as a family, extended family or a group of friends. People were a little bit intimidated because we would pass this around. Anybody who was holding it had to share a small story about something meaningful that happened or anything randomly that happened that week that was important to them. It could be something they were proud of or something they were happy about or that brought them some emotion. This became a staple in our family for many years.
People remember being at our house and being a little bit intimidated at first, but them being so very grateful as to what it brought out in people. It's still very meaningful to me. Though I couldn't bring all of them here with me, the most meaningful thing to me are my three adult children. They continue to bring me so much and who I'm now, and in a position to learn from, not just to teach. That's what I brought for you.
Do you still do the Shabbat dinners with the R?
I'm in this big house by myself. Although Paris was here for a couple of weeks. It's been a little more spread out. We do that but it's definitely been more spread out.
Are you golfing with your brother-in-law, because that is a hobby of his?
Joe is a PGA professional., I do golf with him. It's very fun and wonderful to have that connection with him.
I don't think your Shabbat dinners had your own version of these favorite things going around and talking about something that was meaningful, special or something that happened. That's great. We were intimidated to do that too in the beginning. You want to bring something truly meaningful to this conversation and sometimes it's whimsical or fun things, but you did your own version of that. That's fabulous.
We often do the highs and lows. I'm rethinking that because my kids are young adults as well but sometimes they get caught up in the low and they keep talking about the low, then they're like, "No highs." I'm like, "Let's just do highs." It's okay to talk about the lows and the difficult times but I like the story idea. You're just inspirational. You're amazing and we're in awe of you, your story and how you're pushing yourself forward. You're finding your way home again.
Share a story of something that is meaningful to you with your family each day as a favorite activity of your day.
Click To Tweet
I always relate to Dorothy. In fact, I have this mug with, "You always had the power, my dear. You just had to believe it in yourself." I'm on this journey and I often feel lonely. We go through roadblocks, bumps, wicked witches and all of that. We need each other and we need this support. Thank you for supporting us and thank you again so much for joining us. I know this episode is going to reach many people's hearts and minds, and help encourage them to live their best selves.
Thank you again. It's fun to be with you.
 —
What I've learned from Amy, her writings and teachings can be related to The Wizard of Oz once again. I learned lessons of courage like the Lion, love like the Tin Man, knowledge like the Scarecrow, and finding your way home like Dorothy. I feel that Amy talked a lot about beckoning in the lovely, bringing in the good and good will come for you. What you focus on comes to you. How we are all connected and the ripple effects of connection. How the Lion who is afraid just needs to walk through the fear, instead of around the fear. How to always trust the magic.
There are serendipitous moments in everything that we do in our life. Filling that empty space on your journey on your yellow brick road is so important to recognize that you fill it with love, connections and good people that support you. It's figuring things out as you go like the Scarecrow's always wanting for knowledge. You don't have to have the answers all the time. It's okay to figure things out as you go, going for it and going to it. How important that is to just push each day and go to whatever makes you feel come alive.
I love how Amy takes a look at words and turns them upside down or mixes up the order. I relate to the Scarecrow, looking at life and the brain that he has, not quite understanding how things go together, but seeing the magic in the words. Finally, what Amy talks about the most is making the most of your time here.
Finding those things that make you you. It's not the wizard who's going to give you these answers. It's you inside tapping into those qualities and understanding that you have them all along. Just like Glinda the Good Witch says, "You've always had the power, my dear. You just have to believe it for yourself." I have this on the mug that I use and drink almost every day. It reminds me of all the qualities that we have in each other.
Just like the Munchkins supporting Dorothy on her journey and her friends, the Lion, the Scarecrow, the Tin Man, and her dog Toto, giving her the support and empowerment that she needs. She finds her way home, just like Amy and Jason have found their way home in their own special way. Thank you so much for joining us on Grateful Goddesses. I hope that you make the most of your time here and that you are able to find your way home as well.
 Important Links:
About Jason Rosenthal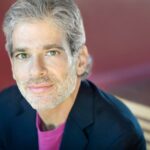 Jason B. Rosenthal is an author, Foundation Board Chair, public speaker, and lawyer. He is also the subject of an essay written by his wife, Amy Krouse Rosenthal, called You May Want to Marry My Husband that went viral and was read by millions of readers worldwide.