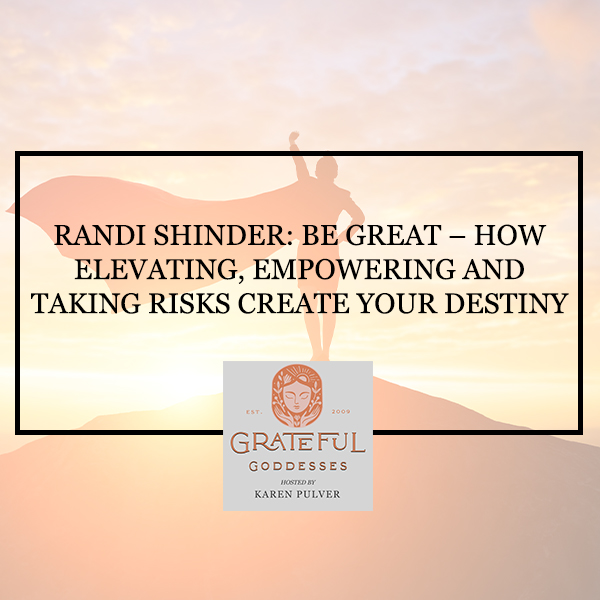 Randi Shinder: Be Great – How Elevating, Empowering And Taking Risks Create Your Destiny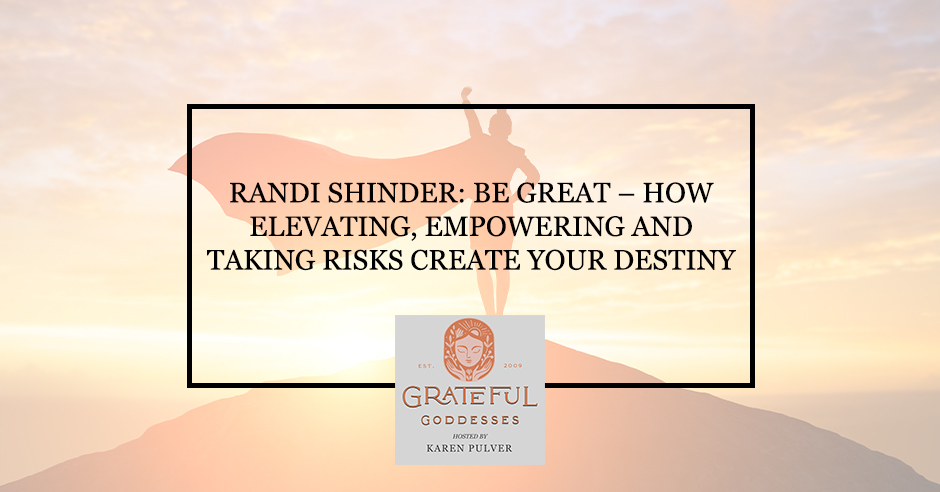 Have you always wanted to start a business and don't know where to start? Every woman founder encounters this challenge, with their second thoughts usually fueled by insecurity and the fear of not hitting the mark. Entrepreneur Randi Shinder proved that anything is possible in the market space, as long as you know how to believe in yourself and take even the biggest risks. Joining Karen Pulver and Goddesses, she shares her journey on becoming a beauty authority, partnering with the most prominent people and businesses through the highly-lauded CLEAN Perfume, Dessert Beauty, and Fusion Beauty. Randi talks about her secrets for forging the right business deals, the intricate process of making fragrances, some amazing life-changing beauty hacks, and how she managed to overcome the many roadblocks of her ever-growing career.
—
Watch the episode here
Listen to the podcast here
Randi Shinder: Be Great – How Elevating, Empowering And Taking Risks Create Your Destiny
Believe And You Can Be Successful With A Bit Of Hard Work
Are you thinking that you might have an idea, a product, or something that you want to solve and you want to help people with but you don't know where to start? You have no idea how to be an entrepreneur. How do you do this? You've been watching Shark Tank every week. You want to go on the show, but you don't know where to start. There's a lot to learn. On this episode, we're going to be talking to an amazing entrepreneur, Randi Shinder. If anyone knows beauty, it's Randi, a self-proclaimed beauty junkie.
Randi has created and launched five beauty brands. It's so groundbreaking that they have formed new categories in fragrance and skincare including her ventures, I Smell Great, the Greatness Beauty, and lifestyle brands. Randi's foray into the competitive beauty market began in 2002 with a successful award-winning launch of CLEAN Perfume. CLEAN offered a unique fragrance experience meant to recreate everything in Randi's world that was the epitome of clean and mimicked that universal 'just stepped out of the shower' feeling. Randi's next venture partner with multi-platinum recording artist, Jessica Simpson, to create a prestigious beauty brand, Dessert Beauty, the only sensory beauty experience based on scents and flavors. Two offshoots to Dessert Beauty, Dessert Treats and Sweet Kisses, went into the mass market and obtained major national distribution.
When you start something and invest your time and money, you are going to make it your career.
Click To Tweet
Dessert was new, innovative, and fun and became the first brand to exceed $10 million in sales at Sephora. In 2005, Randi launched the first-ever microinjected collagen lip plumper, LipFusion, under a new sexy and scientific company called Fusion Beauty. LipFusion became an instant success and an anomaly in the industry selling 2.5 million units in the first nine months at Sephora alone, including two sellouts. Fusion Beauty continued to flourish as the marquee brand of Randi's beauty empire with breakthrough products that attracted a strong consumer following all over the globe.
Randi paired CLEAN Perfume and Fusion Beauty brands under the corporation, Fusion Brands Inc., which she later sold a majority stake in 2006. Randi continued to run the company until 2009, upon which time she sold her remaining equity. Randi's re-entry into the industry came again with innovation and groundbreaking technologies. In 2014, she decided that smelling good was not good enough and along came, I Smell Great, a new line of fragrance based on pure extraction and Scent Sphere technology. A true disruptor brand, I Smell Great empowers women to mix, match, create, reactivate, and be great.
Randi is in the process of creating a world of greatness in various categories including beauty, lifestyle, home, and apparel. This includes GreatBeauty.com where she leads as the site's beauty authority. Randi was born and raised in Montreal, Canada, and splits her time between Canada and the United States. Randi has two grown children who inspire her every day as she watches them build and define their own life paths filled with greatness. Welcome, Randi Shinder, to Grateful Goddesses.
Go out and buy yourself something a little bit out of your reach. You will realize you have to work harder because you have to pay for it!
Click To Tweet
Thank you, Karen. Thank you for the nice introduction.
It's nice to see you, Randi. I want to read you something. "The truth about entrepreneurship is success takes time, takes patience, and takes making mistakes and learning from them." Can you relate?
Absolutely. I believe everything that I've ever done is a stepping stone to the next thing that I was going to do. That continues to this day.
All of the products and all of the different things that you've come up with, how did these ideas come to you?
I never wore fragrance and I'm still particular when it comes to fragrance. I realized that I needed to take a shower and I don't know if I just had my eldest daughter who you know or both the kids because they're a year apart. I was busy and I never stopped working, but sometimes, I'd go join my girlfriends for lunch or an evening and somebody would say, "You smell good. What are you wearing?" I would say, "I just took a shower." I've never worn any fragrance at all. I thought to myself, "There has to be this universal feeling that many women have where they want to smell good."
Maybe when you walk into an elevator and fragrance is overpowering you, you feel uncomfortable. Scent and fragrance are the closest sense to the brain, your olfactory system, and for me, it's sensitive. I realized that I had to figure out a way to make something that smells soapy shower fresh and clean. That universal just stepped out of the shower feeling that women everywhere could appreciate. There had to be at least a million me's out there. How I approach all the products that I create is that if I want this in my life, for whatever reason, there have to be a million other women like me who feel the same way about it.
That has served me well. It's like the DNA of building a brand. I then started to think, "I wonder if the name CLEAN is taken," and it wasn't, which was mind-blowing. I took the URL, CleanPerfume.com. I didn't know much about being online. I had the opportunity to preview it at a Grammy depot, and then people were running. I was answering emails all night from people looking for it. They have been written up in People as the first item in StyleWatch. Celebrities who were asking for it and grabbing it. I had no product. I had leaking bottles with labels. I didn't know what I was doing. I had no cartons.
They put it all over the W Hotel in Times Square. I got the call that day after the Grammy depot that it was being written up in People Magazine and I didn't even know what that meant. I stayed up all night. All the emails came in and I answered every one of them myself. I never had to call a buyer because people were running into stores and asking for CLEAN Perfume. I can remember my then-husband saying to me, "There must be a perfume crisis in the US. What is going on?" From there, honestly, I'd love to say the rest is history, but the truth is the rest is a lot of work. It's all having a real passion for the work you do.
After CLEAN came Dessert with Jessica Simpson. She was a big fan of CLEAN Perfume. Her management called me and said, "We'd like to do something with you." It was born out of a competitive spirit that creeps up now and then. I don't necessarily feel that way as much any longer. We were supposed to debut CLEAN on QVC. The then-founder of a particular brand that had only one fragrance at the time and did a lot of flavored bubble baths and things like body and bath products stopped us because they were one of the biggest brands on QVC beauty at the time.
I can remember having a conversation with the buyer at QVC, and then calling the CEO of Sephora. I remember being so upset by the whole thing. I thought, "I'm going to do what she does, but I'm going to do it in a much different way. I'm going to make sure it's a multi-sensory experience." Every single Dessert product was kissable and lickable. Essentially, we would call it say, a clean beauty product or organic even. We came up with the tagline, Sexy girls have Dessert.
You have to take risks and fill the white space; find something you can be first at!
Click To Tweet
Jessica had just gotten married. There's an angelic halo around her. She was both sexy, pretty, and beautiful and that money shot that people remember. It's part of beauty, pop culture, which is so great about it in Inside, on BuzzFeed, or an article pop up, or I'll read something like, "The world was a better place when Dessert Beauty was in." It's funny. I remember that my daughter read a series of books called the Clique, which maybe some of you remember. They wrote about Dessert Beauty and every single product, and how all the girls collected all the Dessert Beauty products, so that was fun for my daughter. She came running over to me and said, "Look, Mommy. The brand is in these books." She always used to say to me, "Mommy, you make everything. Why do you give Jessica all the credit?" I say, "I make more money that way."
I'm going to bring on the Featured Goddesses. They want to talk more to you about your journey. Alyssa would like to ask you a couple of questions to start.
I know from watching Shark Tank and knowing some entrepreneurs, myself not being one, that it's a 24-hour job. It is nowhere near a 9:00 to 5:00 job. It's hard enough being a mom, having a family, and having a job with normal hours, but that never stops when it's your company and it's your brand. I'm curious how you were able to find any balance in your life when you were doing this. It sounds like you were eating, sleeping, and breathing your company. Speaking of children, I know that your brands are your babies. Your company is your baby. I know that we would never admit to having a favorite child. I certainly would know that day-to-day changes. Do you have a favorite brand that you launched? If so, why?
Fragrance is my passion. I don't know why. I never wore fragrance, but I always collected it, especially when I got into niche fragrances, and I still do. CLEAN is my baby. Interestingly, when I sold Fusion Beauty, I hadn't been paying attention to CLEAN because first, Dessert came along and it was a successful brand, and LipFusion came along, and then it turned into Fusion Beauty. It evolved. That became the marquee brand and everybody was trying to buy it from me.
That's distracting. I'm not complaining. I'm only saying it's distracting. The deal process is distracting from the day-to-day work that you have to do in running a business. CLEAN was almost like a throw-in. They didn't want my attention diverted away from Fusion and from building Fusion. It was almost not valued properly. Now, where's Fusion Beauty? I have no idea. Where's CLEAN? It's all over the world. It's in every single Sephora store. It's somewhere between $70 million and $100 million brand now.
That's great. I love that. That's my legacy because I love that I began the brands. I love that I created fragrances that were all meant to evoke something that I considered in my world to be clean, whether it was the original, which was just a bar of Dove soap that I carved the logo off. It sits in a perfume chemist's office under a spotlight and a showcase because they're so proud to have been the creators of CLEAN. Our favorite laundry detergent, my children's bubble bath, my children's baby soap, my guest soap, fabric softener, and shampoo.
We would do extractions and create fragrance after fragrance, and then tell a story about that fragrance. That's how CLEAN began. I thought it would become a lifestyle brand and registered the intellectual property to do so, but it was hard to manage that when the other brands also blew up. They didn't want me distracted. I thought, "This isn't where the value is, so take it." I would say I don't like to live with regret. I don't live with regret. The brand is my baby, or at least it did. It was a successful, nice way to enter the industry.
It also led to the success with Dessert, which had a start and end date, and that's okay because it did well. Fusion being the marquee brand was so scientific and clinical and has given me the opportunity to do what I'm doing with SBLA. One thing leads to the other. The reason that Fusion was so successful and why, Karen, you probably thought it was my first brand is that because Dessert did so well with my manufacturer. They brought me the microsphere and said, "If we give this to you exclusively, what would you do with it?" I said, "I would start a lip plumper," but there was no such thing as a lip plumper on the market at that time, so it was the first.
Don't believe in barriers to entry. We create our own barriers. If you can overcome that, then you are set. Barriers are about fear anyways.
Click To Tweet
If you're first to market with something and you can fill whitespace and create a new category in the industry as CLEAN Perfume did. It was not even CLEAN Fragrances. We're not even on the fragrance wheel until CLEAN was created. By the way, that woman who blocked me on QVC started to describe her fragrance, which was a floral as a clean shower fresh fragrance. I thought, "What do you mean?" It's also the most competitive industry that I know of in the world.
How many formulations did you go through to get to the ultimate CLEAN fragrance?
There were a number of redirects. This is my first go at anything in the beauty industry. The first submission was rose-based and I thought, "This isn't how my soap smells." They explained to me that rose and I know that now. I love nice rose water and I collect and use a lot of them. They smell soapy. It took me a long time to understand that, but I had to cut that rose scent. What I learned to do initially, because I'm not a chemist, is I would say, "Can you please wash your hands with the soap that I sent to you?"
They knew what soap it was even though I thought it was something mysterious but wasn't that mysterious at all. I said, "Smell your hands afterward because that's what I'm trying to achieve." I'm not trying to figure out what's in that bar so I'm trying to recreate the way skin smells after someone's showered or washed with it. When you can describe that to a good perfume chemist, that's how you can and do create a good fragrance. I do the fragrance by extraction process which is different from the way most fragrances are created.
I'm so glad because I come from the cosmetics world. I was an aesthetician. I worked with some of the brands you might be speaking of and when you were talking about the extraction process, I was like, "It's all the different layering, top notes, and middle notes." I'm sure maybe some of our readers aren't that familiar with all those different layers and levels of fragrance. Can you share a little bit about that? I also have my skincare questions.
When you first apply a fragrance, you get a whiff of something. I remember when I got my first submission, my whiff of something was a lot of alcohol so that I knew had to be cut or had to be changed and there are different forms of alcohol to use. You have your top note, which is what you're going to smell first. Depending on the fragrance, they're different. It can be anything. You have your middle note and you have your dry down or your base note. Each fragrance lasts a certain amount of time depending on how it's formulated. I wear water-based fragrances or oils.
Oils are typically stronger because they're pure fragrance or perfume and perfume is a higher percentage of the actual fragrance combined with whatever the base is. Eau de toilette, cologne, and all of the other kinds of fragrances that you can wear like body mists and etc., are more diluted. There are different ways to make fragrance. I'm a big believer in water-based fragrance. I don't love using alcohol in anything unless it's to kill germs or something like that or to have a clean canvas for injection or whatever.
It makes sense. As an aesthetician, I could not agree with you more. You mentioned how competitive the beauty industry can be and I wonder, is it repetitive more so with women? Are they more competitive towards each other or is it a male making women competitive against each other? What makes that competitive edge? How can we be more of a sisterhood that works with each other as opposed to competing against each other? Although I like to do the idea of a little competition that made you create something even better than the person that was trying to take the job away from you. How much stronger did you guys or ladies would have been if you joined forces and took over?
I'm not afraid to tell women to climb the ladder of success in high heels; and if they're lucky, they will be Jimmy Choos!
Click To Tweet
That brand was already quite established and they weren't just fragrance. They were already in bath and body and skincare. It doesn't matter. She doesn't own it anymore and she made tons of money. She is a chemist. We didn't have much in common with one another. I didn't want to join forces with her nor was that even an option. We were new to the scene with one fragrance and one layering. When you talked about layering before, I created a layer right away to sweeten the fragrance because it was soap-based. If somebody wanted an actual little bit more sweetness or a little bit more of a citrus or an element, we created layering fragrances right away, so I do believe in wearing. I will mix up pretty much anything other than for myself. Personally, I don't like anything that's vanilla-based. I know a lot of people do. I can't do it. I don't know what it is. Men like it. They love it.
Pumpkin apparently. I remember when I worked for Sephora, that was one of the things they said, men love pumpkin pie or something like that.
Also, cinnamon rolls, they say.
Also, bacon.
I don't care about that.
The vagina smelling candle.
It's rose-based. I bought it and left it at my place in Florida.
Camille brought up a good point and you and I talked before about women empowering each other, trying not to be jealous, to support each other, and lift each other up. We feel on Grateful Goddesses that support is one of the biggest actions a person can take and we always try to support each other. Did you feel support along your journey?
One of the things I learned initially was that the beauty industry, when I entered anyway, it's a little bit different now, but it was pretty much controlled by men. The presidents of Sephora and Estee Lauder are men. You name it, it was controlled by men. I used to make much more of an effort, and I will again when I have time, but I used to speak to business school students quite often, even at high schools. If I could inspire one person and help them make a decision about the direction that they'd like to take in their life, I always thought to myself, "If somebody was this honest with me when I was younger, I may have found my true calling a lot earlier." There are some women's groups or grad students doing their MBA and some women would invite me. I've been invited to many of the universities across the US as well. I have not taken up all those offers. I've read all those offers. I have spoken at a few as a keynote speaker at an MBA event.
I've told women, "You climb the ladder of success in high heels. If you're lucky, those would be Jimmy Choos or Manolo Blahniks." To get there, you may bat your baby blues a little bit. Don't cross that line but don't be afraid. As long as you're keeping it classy to feel empowered, feel beautiful, and look beautiful. If that gets your foot in the door, good. It's okay. That was the truth for me then, definitely. I was given a lot of opportunities because I fit that role in that mold at that time period. I entered the industry in 2003. I got my first board and I'll never forget that feeling. I was in New York and watching the Lauder family all nicely applaud to claim Newcomer of the Year from Women's Wear Daily and being on the cover. That's a big deal. In that industry, I'm not suggesting you have to be a certain way because it's not true. You have to be smart and you have to understand how to stand out and if you don't, it's extremely competitive.
My advice to most women is, number one, I always try to elevate any woman that comes to me for advice. I've had women. I've invited them into my home, women or girls who are starting a different brand. Some have done well. I don't want to take a piece of anyone's business and I don't want to compete with them either. As long as they're not in my space, I don't mind giving them the best advice that I can. I also don't mind introductions for them. I hope, and I would like to think that somebody would do that for my kids too, my daughter and my son. It's always been harder for women. The industry has changed considerably. Female founders are finding it easier to raise capital and finding it easier to get their foot in the door. Female founders are being celebrated, whereas that was not the case when I first started.
When we spoke about you coming on the show, you were like, "Yes. Empowering women. That's what I want to do. I want to support and that's what we do here." Michelle, what would you like to ask?
On that topic, I can relate. I've always been someone when I have something good, I want to share it with everybody like my girlfriends and that's always been important. I love to hear you say that. It resonates with me. I'm wondering, on the flip side, what are some of your roadblocks, maybe things from when you first started out? You seem pretty tenacious, which is great, but I'm wondering how you dealt with them?
Don't cross that line but also don't be afraid as long as you are keeping it classy.
Click To Tweet
There's probably been more than I can even remember that didn't go right, and I'm not suggesting this is the way everybody does things or should do things. For me, because I'm not in New York and while I do have US residency status, I didn't then, so I had to go back and forth. I was traveling quite a bit. I had young kids at home and I was doing a lot of business. I owned several brands that were successful. It was so busy. Some of the times I looked at things and I shared a clip of an animation that Sephora did all over the world with Karen, but that's one of a million stories. Sometimes it's almost surreal that whole period of time in my life and how I was so busy. I was too busy to even sit back and think about what was happening.
A big moment where I realized, "This all matters," because, for me, I thought, "This is great. This is fun." I'm enjoying my work and trying to find that balance between my work and my family. I was traveling all over the place and taking the kids as much as possible. When I received my Ernst and Young Entrepreneur of the Year Award, the national one, and I got an international citation, and I saw my parents crying. For me, that was a big deal. I don't think it's a moment that they're ever going to forget. It's certainly not a moment that I would ever forget. There were lots of awards and things like that, and industry awards with everybody from the industry in the audience in New York but that one was special.
What I'm hearing is you move forward with things that you loved and were inspired by rather than seeing those roadblocks and focusing on them. You kept doing what you loved to do.
I have a few philosophies when somebody wants to start a brand. Some of them could sound strange, I don't know, because they're personal but somebody who was successful in business, who at one point in my life before was in the beauty industry was somewhat of a mentor to me. I was told, number one, if you started to figure out how much money you're going to make doing something before you start, you won't succeed. It can never be about that. It has to be that something you feel passionate about and the money will come. I believe that to this day.
Also, when you do start something and you start to invest your time, money, and you are making it your career, go out and buy something that feels a little bit out of reach. It feels a little bit reckless spending whatever it is. Depending on what's significant to you, go buy a sports car or at least a sports car. Go buy a piece of jewelry or an expensive purse, whatever it is. Go buy something that's going to make you work a little bit harder because you have to pay for it.
That's a good tip. My husband would not like that one. I like that one.
It works. It makes you start to think, "I bought that thing so I better get to work."
Do you think that it's a form of manifesting as well because you're dreaming bigger?
You're determining that you're going to be successful so yes, it's definitely manifestation. It has to be. It's not about accounting and buying something expensive. You can't be an entrepreneur if you're not a risk-taker. You have to take a risk filling whitespace and finding something that you can be the first market at. I work and I don't want to say with blinders on because I see what happens in the industry and I watch it all but at the same time, I don't go to the functions. I don't hang out with the people in my industry honestly unless I was going to accept an award or going to a specific luncheon where I knew I was involved in some way.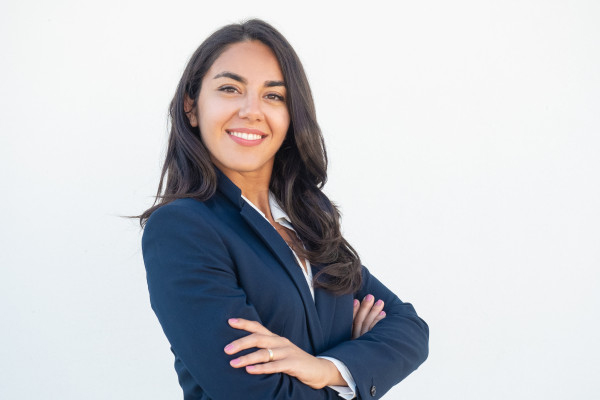 I skipped all the industry stuff not because I feel like it's nonsense, but I was already doing enough traveling and leaving home for all kinds of reasons. In the industry, you have market weeks where you're bringing your products to market and you're showing it to buyers or depending on where you're selling your products. It's a little bit different now with the digital ads, direct-to-consumer models, and things that you have a lot more control over your business and what you want it to be, which I prefer. It was a lot. I still maintain those philosophies about how to begin and anything else to buy though now.
We talk often about how the money will come, just think about what you're passionate about. In fact, I spoke to Camille about that because she also has a podcast and we were talking about it. Where's the money going to come from this and it's like, "Keep doing what you're doing." Keep swimming like Nemo and doing what you're happy with. Alyssa was going to ask you about mentors, but she has another question for you.
I do and that reminded me of what my dad used to say, "Find something you love to do, and you'll never work a day in your life." It sounds like you love what you do and don't see it as work even though you work hard.
I say that you're not going to love every day of anything you do and I try to tell my kids that too. That's not the way life works. There are days that are going to feel like, "This is ridiculous," but it's okay. It comes with the territory. In the end, you feel like you accomplish what you said.
Karen and I live down the street from each other, and down the street is a Sephora. I was walking by and there's this giant thing that takes up many square feet of window space. It's a picture of JLo and she's launching a brand or the brand exists. I don't even quite know but it's her brand. It seems to me that celebrity ties in with brands are key. Back in the day, you had Estee Lauder, Revlon, and these big brands and now it's about celebrities and their brands. I'm curious, you've partnered with Jessica Simpson and other celebrities as well. Sometimes their people come to you or perhaps sometimes you reach out to them. I'm curious, being such a layperson in the world of makeup and all that, how do these things develop? How do they happen? Do you think that they're critical now in the beauty industry to make it big?
Feel empowered and look beautiful. If that gets you in the door, it's good, it's okay!
Click To Tweet
First of all, I'll fill you in on a little bit about the industry. Number one, it's not JLo's brand. It's owned by Coty. It's based on her story. I don't like JLo a lot. I like her music. I don't know her, but her story is that she's never had any injections, she's ever had any work done and she uses olive oil on her skin. I go, "Good luck with that." Sorry, but it's ridiculous. I like Barstool Sports on Instagram. My son likes it. Even they even took a hit at it. It's that silly.
The industry has changed. Sephora used to be all about the indie. I don't know the current president of Sephora. I knew the last president and I knew the president before that well. The indie thrived at Sephora. The way Sephora became significant is they launched independent brands and they got behind you if you branded well. I brought them LipFusion first. I launched Dessert and LipFusion there exclusively. They bought 100,000 units of LipFusion, which was the initial product, the CLEAR lip plumper and that was a large order and it was meant to be a single SKU item and a single point of distribution. It sold in one day.
When the units were selling on eBay for $200 each, it was so crazy and we ended up selling 3.2 million units in nine months because we had two sellouts. We only had nine months of sales in the first calendar year. Even to stay in stock, Sephora came to me and said, "We're going to buy your components in Asia for you and we'll deduct it from your invoices when we pay you but you'll store them and fill them as we need them," because they had the exclusivity and it was such a huge brand.
Dessert was the first brand to exceed $10 million at Sephora. LVMH called them, LVMH owns Sephora, by the way. If you're buying Dior, Fresh, Benefit, Pat McGrath, Marc Jacobs, etc., you're essentially buying a full margin sale for Sephora. For LVMH essentially, they own Sephora and also Duty Free strip shops, and those brands also own Donna Karan. Rihanna's brand, Fenty, is an example. Sephora owns Fenty, which was never a Rihanna brand. That's a Sephora brand.
Ole Henriksen is owned by Kendo. Kendo buys up brands or will go to Korea for instance and buy. Remember all the masks were coming out? Everybody had a different mask coming out, a different sheet mask in some package and whether it was a bit kitschy, interesting, fun to buy or it had benefits to it, but everything was a mess. Masks were everywhere, suddenly. They were repackaging them and these are all full margin brands in Sephora now. This is not me dissing Sephora. Their business model completely changed.
Whether the brands are being fed in by Dior, Kendo, or their natural arm, Credo. Most of the CLEAN Beauty is coming out of Credo, which is also Sephora. Sephora had to do that to compete. It's impossible for them to compete in bricks and mortar with the overhead and everything that they have without creating a full margin opportunity for themselves, so I get it. I'm saying it's changed completely. Whereas, Dessert was the first-ever $10 million brand in Sephora, Fusion was the first-ever $50 million brand at Sephora.
It was a joke. I remember they took me to dinner on my 40th birthday. I was in San Francisco and we went up to Napa. They had a huge meeting in this beautiful boardroom in San Francisco in their head offices. Everybody was there because it was my birthday. They started to joke around and say, "What do you want to sell us? If the brand is called Married, we'll buy it." I always say that I made a lot of money working with Sephora. So far, it made a lot of money on my brands. It was a match made in heaven.
I'm glad I'm not trying to do it now. It was interesting because I don't know the president but the last president who is now president of LuLuLemon, I had lunch with him and he asked me to come back and he's going to arrange a meeting with the last two people there that I know who's now the Head Merchant and the Head Skincare Buyer. I started I Smell Great and to be honest, the advice I got from them is, "It's different here now, Randi. Don't launch here. You're not going to be happy. It's going to be a different environment for you." I noticed that the indie brands were not being animated, showcased, or anything the way they used to be.
I can remember walking into the Champs-Élysées store, which is humongous. It's their flagship and it's enormous. You can walk in at midnight, any day of the week, and the week prior. I had been animated in the window and Karen saw that picture. It was funny because I said to my dad, at the same time, Karen and my dad said, "Where did I see that? I think I saw that in Florida," or "No, I saw it in New York," "Maybe I saw it in Paris." I said, "You saw it everywhere, Dad." It was everywhere. It was all over the world. It was so crazy. People were seeing me larger than life on the window of every Sephora store wherever they went and going, "I know her," and taking a picture beside me and sending it to me. It was a crazy time in my life.
I went to that store and they were animating LipFusion. Every single pillar in the store was decorated to be a LipFusion component. I can't even imagine how high the ceilings are there and they had lip plumping bars and station setup. They had plasma screens before anybody else was even doing this at both entrances with lips plumping. The brand was all over the place. I'd never seen anything like it, but that's what it used to be a big brand at Sephora. That's Leslie Blodgett from Bare Escentuals next to me. Jonathan Levine from Go Smile. I can't remember who was in it. It was called The Masters but they put you in front. It was trippy, I don't know.
Alyssa, you wanted to know specifically about connecting with celebrities.
It's like I said, JLo's brand isn't JLo's brand. It's Coty funded and it's all about storytelling. The narrative is the whole olive oil thing. People are going to buy it and they're going to look like JLo and their skin is going to be JLo's.
If the celebrity uses the product and is religious about it, it helps to enhance it.
It's more like JLo didn't have a beauty brand and probably was approached by Coty. I'm sure she's been approached by many other established and larger groups.
For you and your brands, you want someone that's going to represent CLEAN and to show that they're using it.
I never wanted CLEAN to have a spokesperson. It was important to me for CLEAN to be much more universal. A lot of celebrities use CLEAN and we talked about that, but I didn't want it to be a brand that was fronted by a celebrity face. Dessert was created with Jessica in mind and with Jessica, the initial products I created, but it was fun. She got married, The Newlyweds were becoming a big deal. She's a pretty girl. I have the pink bustier downstairs, the cupcake, the J ring, and that iconic image of the icing on her finger. It's one of those interesting things.
We put out 33 SKUs of edible cosmetics that no one's ever done since. I even still own the intellectual property around it. I was thinking about finding the next Dessert Girl. Should I do it again? Do we even have a real audience? People still talk about it so much. I don't see myself going there but I'm saying that it was fun and I've worked with everyone. I've worked with Britney Spears, Justin Timberlake, Jessica Simpson, Nick Lachey, and Sophia Bush.
Be smart and know how to stand out, elevating women along the way!
Click To Tweet
I was going to do Heidi Klum's line and I've spoken to lots of other celebrities on the phone. I got to the point where I watched the paparazzi thing happen with Jessica and it was starting to get crazy. It felt out of control, to be honest. I never experienced anything like that in my life, walking a red carpet with her. I don't know if anybody's experienced that, but it felt unsafe. Crossing the street with her felt unsafe. I remember saying out loud, "I'm not doing this again." I did it again but I didn't like that feeling at all. I'm working with a celebrity now again, even though I always said that I'm not going to do this anymore. I'm working with somebody who has been in the industry for a long time and who also had more experience. Life experience is the best way to put it. I haven't announced it yet but it's so far so good.
Do you want to announce it?
Sure. Christie Brinkley is going to be the face of SBLA. It's nice because people do appreciate it. She was using all the wands by SBLA and seeing the results.
The neck wand in case you're wondering. I want to get one. It's such a good idea.
She uses both neck wands and she's completely addicted to the face wand. I know she was rehearsing all the things that she wants to do in terms of the videos that she wants to create and it's great. We're in a pandemic so I'm not going to rent a studio and a camera crew and put anybody at risk now, but you can create amazing authentic content at home and put it out into digital ads. I want people to see, at her age, how beautiful she is, number one, because I'm blown away. She's using the face wand on camera with me and I'm watching her lines literally disappear from my eyes. I was like, "This is gold." It's so authentic and she's using it. She's in her home and she's filming herself using it, it doesn't get more real than that.
That's what I was saying before. It's like what I tell the Goddesses too, because we talk about favorite things, which you'll participate in, and I always say, "Don't bring your sister's jewelry line." You have to love your sister's jewelry line because people want to know authentically what do you love and what do you use. Remember, I asked you and I commented on your photo because you always look great but there was one photo your skin looked so amazing and I'm like, "What do you use?" You got back to me right away with all of your products. I was like, "I want skin like hers," because that's what you want. You don't want to lie about a product you're using that doesn't do it.
I always say that there are two different kinds of women. There's the woman that you say, "That's the cutest top. Where did you get it?" They're like, "I don't remember." I'm like, "You don't remember?" There's the kind of woman that's like, "If anybody wants to know anything, I'm happy to share." What's the difference?
Camille, I know you had some more questions to ask, or Michelle.
I'm sure everybody would love to hear some great at-home beauty hacks since we have the cosmetic guru here. I'm also thinking about how cool it is that you decided to go the skincare route because it's much sexier for people to go color or so on. It's easy to do lipsticks or blushes or whatever. For you to go skincare, like Estée Lauder, there are many different brands that people are staples too. What made you realize that, even in a saturated market, you're still going to make your skincare? You mentioned risk-taking, people are scared to take that first step when there are already hundreds of different lines or already hundreds of different barbecue sauces. There are different makeups but there's not you yet. What made you make that big jump to do it?
The first clinical skincare thing that I did was LipFusion. My manufacturer brought me the microsphere and said, "If we give this to you, what would you do?" It evolved from there. Clinical skincare has a story, it makes sense, and has real science. I'm interested in science. It's interesting to me because I subscribe to a publication called Beauty Independent. They're predicting that because of the pandemic, clean beauty has been at the forefront, and because of the pandemic and this focus on science, they're expecting much more of a return to people relying on science.
My daughter, she's into clean beauty. She's checking ingredients on everything. One of the things I said to her was I'm all for it. I've also seen major brands have major recalls because there are microorganisms. There's no way to properly test over and over again. Once you're in the warehouse and you're sitting there, you're taking a chance. I eat clean. However, I don't necessarily worry too much about whether my skincare is verified clean beauty or not. It's never been a concern of mine. I want something to work and deliver results.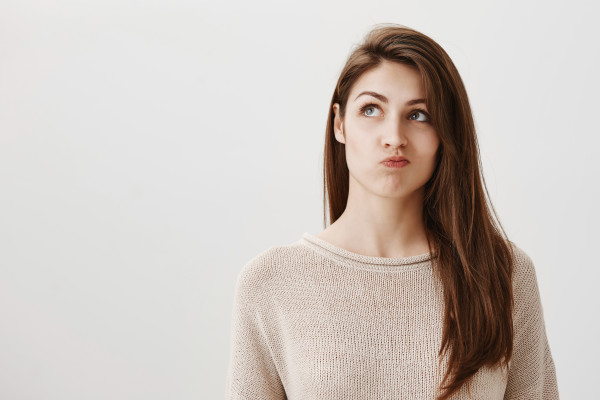 One of my sayings is, "I don't think the world needs another shade of red lipstick." I'm uninterested in color. I don't want to compete with Bobbi Brown. I don't want to compete with Pat McGrath. I don't want to compete with these color gurus. If you look at them, they've gotten into the skincare business. Bobbi Brown is on Estee Lauder. It's not really Bobbi creating the skincare but you have to wonder, "How well does their skincare do? What's the science behind it?" I looked at the science and I looked at what opportunities are there. The neck wand, for instance, I'm obsessed with having a young-looking neck. That's my thing. I market to the million me's out there. I don't think that's going to change. The neck area is the first part of your facial area that's going to show your age. It's the crappiest skin on your body. It's the thinnest skin.
There's a lot you can do in your face. You're a little bit more limited when it comes to the neck areas. Unless you're willing to have needles in your neck and do all kinds of lasering or have surgery, you're stuck. I felt that creating an application device that was antimicrobial and based on real science that I could run through clinicals and explain to people, that was whitespace. Every brand has a neck cream, but it's a moisturizer. There's nothing in it. I'm not afraid to take shots at the other brands and say, "Where's your science? What is this? What are you doing for the neck that's different than what's being put on people's faces?" You see a lot of perfect faces out there. We can have a lot of different kinds of injections that are no big deal at all.
The new thing is the blue light protection. There's always something new that they're trying to do. I agree with you about the natural or clean because I'm allergic to a lot of things in nature. I don't want to put a lot of stuff on my face that might cause reactions. They were talking about how some sunscreens are being banned in Hawaii because of how it affects the coral reef. You have to re-change all your formulas again for that. I was curious what drew you to skincare. As an aesthetician, I started in makeup. Once I learned it's about the foundation underneath to show the best makeup, I was sold on skincare and that became my thing.
To be honest, I don't wear foundation anymore. I don't know when was the last time I put foundation on my skin. I put a drop of tinted moisturizer into hyaluronic acid serum before I came on the show. This is the most makeup I've worn in quite a while, to be honest.
Are you wearing pants?
I'm wearing cashmere pants.
We're all in sweatpants, pajamas.
One of the interesting things about the pandemic is that we're all stuck at home. We're under quarantine here. There are all these rules. There's no reason for me to put makeup on, so my skin has never been better. I've been able to play with things that I wanted to play with. I have a hyaluronic acid serum that I love, which is by a Japanese company called Forlle'd. It's expensive but it's worth it. My skin drinks it up. They say it penetrates four layers deep, I don't know why.
You and I were texting and I was like, "You need to start making these videos, all of these beauty hacks of things that you do." You shared some stuff with me about the smelling salts, which is cool.
I brought them.
That's for Favorite Things. Let's wait for that.
I've had many ideas and then it's intimidating. I don't know anything about that industry, or whatever industry, whatever my ideas. For me, there's a roadblock. There isn't but I make it in my head or I have no clue what to do. When you first started, how did you even find companies to make your products or figure out how to do it?
First of all, I don't believe in barriers to entry. A great way to look at it is we create our barriers. They don't exist, number one. It's about fear, to be honest with you. When I started, there was no Google then, it was Yahoo. I started out searching for perfume chemists and I came across somebody, they were small. The chemist came out of Calvin Klein and they have a lot of experience. I talked about what I wanted to do. I got together with the president of my ad agency because I had been the founder of a dot-com that Britney Spears and Justin Timberlake had shares and they were the faces of it. It was a loyalty program. My background is in loyalty marketing.
I went to the president of my ad agency and she invited the managing partner of a communications company, which is Dan Klores Communications. They do crisis PR. Her name is Diane Briskin. She's started her agency and she's doing all my PR. Diane and I are working together again. She's the one that got me into the Luxury Depot. She's the one that I worked with when I launched CLEAN and when I started my entry into the beauty industry. I've come full circle. The first editorial on CLEAN was by Steven Cojocaru, who wrote for People Magazine at the time.
Isn't he from Montreal?
Yes. I didn't know that though at the time. He was also the host of the red carpet events for most of the award shows. He sent his editors up to find out more about the fragrance. I didn't have a clue what was going on. I got a call at Saks while buying shoes. I got a call that he was writing about CLEAN perfume in the first item in StyleWatch. He talked about every celebrity when celebrities still went to these things. I grabbed it and the note said we're in it and that's why it was a frenzy. I wrote him a note thanking him because he launched my career. Interestingly, somehow, our families are related way back. I'm from Montreal, originally. I follow him. I'm thankful to this day. I've never spent any time with him or speaking with him.
I ended up being interviewed in my home. People sent photographers to my home. This was around 2008. They did that same feature. The new editors, Steven wasn't with People any longer, did the whole section about me. I said to the editor, "You know that this column in People launched my whole career." I told her the whole story. She said, "I know. I was there." I got chills when she said that because I didn't know and I didn't remember anybody else being there. I didn't even realize what was even happening to me. My whole life changed that day. That's part of it. A lot of things are meant to be. That's why I don't believe in barriers to entry.
If you want to do something, get online. There's so much information. Don't buy anything from Indonesia, China, or something like that, and expect it to be exactly what you want unless you're speaking to an actual factory and they can speak English and speak with you. I had bad experiences trying to do that thing. When it comes to devices and things like that, I can understand why you would have felt a little bit paralyzed. It does become more complicated. If you can make something domestically somehow in the US or Canada, you're a lot better off, at least a prototype.
It sounds like you took risks. You had confidence. You were inspired. You had mentors. You worked hard. You continue to work hard. You told me that you're up until 3:00, 4:00 in the morning, constant. You're still there for your family. I was telling the ladies that I remember you at visitor's day at camp because our girls went camping together and you were all there, full-on. You've managed to balance. I was reading this book by Robin Sharma, The Greatness Guide. It's funny because it was on my bookshelf and I was like, "I'm having Randi on and she talks about greatness."
I came across this quote, "Greatness in business as well as in life comes by being an inspirational human being and walking the talk." That's what you seem to do. You use your products. You walk the talk. I love when you said, "There's a lot of me's out there and I want to make the product for the other me's out there." I've used the I Smell Great and you do smell like you've come out of the shower. It's refreshing. Thank you so much, Randi, for joining us on Grateful Goddesses and teaching us all of these amazing, inspirational, empowering lessons that we need to learn. I know our readers of the blog will be inspired to get up off the couch and start doing something that they can do. We will empower each other. Thank you for joining us.
It's been my pleasure.
—
Welcome to Favorite Things with our guest, Randi Shinder. It's like an adult show and tell. I was going through some photos and I have these spread out all over my house. It was funny, these are the photo booth photos. When you go to a bar and bat mitzvahs or weddings, we all know these, they can pile up and with friends. It was coincidental, I swear to God, I came across this one in my daughter's room.
That's my daughter and your daughter.
I came across this one and I was like, "I'm interviewing Randi." This is funny. They're all over the place. They pile up everywhere and I was like, "This is Happy Fourth of July," which is funny because your daughter is living in Florida. These make me happy because they're silly. I've got to figure out what to do with them. It's like that sweatshirt you get at a bar and bat mitzvah, they're filling up the drawers. I have tons of these.
Tiffany right next to me. What do I have in them? Me and my kids.
I love these. We have to figure out a good way of displaying them. Alyssa, what did you bring?
We're talking about clean beauty and I went with clean. This is Jenny Patinkin's Luxury Vegan Makeup Brush Soap. I hate cleaning my makeup brushes more than anything. Thankfully, I'm not wearing a lot of makeup these days so I don't have to clean them as much. I love this. I know Jenny for many years. She's a Chicago girl. This is made with coconut milk. It's fragrance-free. It's antibacterial and antimicrobial. It's all that good stuff. It's like soap. Instead of sitting there, shampooing, and hand washing all of your brushes, you wet your brush and zhoosh it around in here. It gets dirty but then you run this underwater and it's perfectly clean again. It's easy. It's hassle-free. All of my brushes, I air dry them and it's good to go when I do start wearing makeup again.
I thought you were going to show your Gua sha.
I was also going to show it. I didn't want to take up the whole Favorite Things. My new favorite thing from Karen as a birthday gift is also the Jenny Patinkin Gua sha, which is this awesome rose quartz face moisturizer. It drains your lymphatic system. It makes you less puffy. It's also a good massage. It's cold and I love it. You put some oil on your face or serum and then you drain away. Do that in the morning and you'll feel refreshed.
There's also a doctor-something brand, a Gua sha, it's electronic. It vibrates.
Camille brought that.
It vibrates and everything. My friend was an influencer.
How does that work?
Unfortunately, I didn't charge it with my USB. It vibrates. It will be cold naturally but it can also heat up. I wasn't sure if I did it before but before I did, I did the eye one with you. It's the roller for the eye and then they have this one but it doesn't have any serums or anything in it. You still have to put your serums and so on. I like it. I will admit that it can be a little loud. My husband is always like, "What are you doing in there?" I'm like, "It's a facial thing. Don't get excited."
Say, "I'm watching Bridgerton. I can't talk right now."
Camille, is that one of your favorite things, or did you bring something else?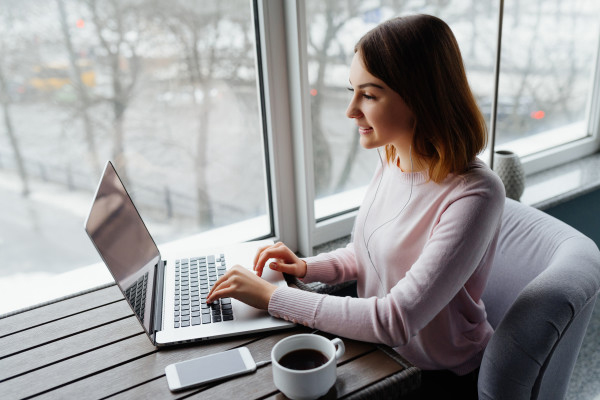 That is one of my favorite things. I had brought that but then when you were talking about the pictures, I was like, "She keeps that around too."
I have the Gua sha. I also have the eye one that Camille showed you last time. I have both of them. I like them because it's faster and easier to use. I also have the rose quartz Gua sha as well. There's a company called LaCrème Beaute. They sent me a huge swag box, and it had a Bee Venom cream that's interesting too. I've been using that every day.
We need to get a list of all of these to put on the website, all of your recommendations.
That's a new, big find of mine. It's an amazing winter product because I haven't had to deal with winter for years. This is my first. I'm not impressed. I'm home and the heat is on and my skin is drier.
You grew up in Montreal where it's freezing.
I know but both of my kids went to the University of Miami and my parents are up north. In Florida, I was like, "What am I doing here?"
Is it actual bee pollen?
Yes. It's called Bee Venom. It is meant to be like almost a topical botox. Your skin absorbs it. They have one with a rose as well that I wear during the day, which is lighter. I put my Forlle'd serum on and then I put that on top. Ever since I started using that, I have not needed any foundation. It smooths out your skin. I'm in heaven with my skincare regimen. The pandemic has been good for me in that way.
Michelle, what did you bring?
I brought a little patch that I put underneath my belly button. It's by a company called LifeWave. There are several different ones but this one is X39. The reason why I started using this is that I'm a terrible sleeper. I haven't slept in days. I haven't used it lately but when I'm using it regularly, I feel refreshed. It works with your stems. It stimulates your stem cells. It's amazing. I've been using it and it is life-changing.
Can you get it on Amazon?
No. I happen to know a distributor.
What's the name, Michelle?
It's called LifeWave and this product is X39 but they do a whole series. When you buy one, they often throw in a ton of samples. I got it through this woman and I'm happy. She's knowledgeable and I'm happy to share. I want to get her on the show too. She's great. I feel alive.
Michelle, I'm going to get one for Randi. Randi, I'll get your address and send one to you.
You'll love it. It's great. Even if I'm exhausted, it helps me feel alive. It's healing. It works with your own body. There are no chemicals. You're not putting anything into your body. It works with nature.
Do they have an 'I am awake' one? How about 'I feel sexy tonight' one?
You do though because it's feeling healthier in general.
Sleep and water are key to beauty, wouldn't you say? Randi, what did you bring?
I brought a couple of things that I talked to you about. The company is called Roques-O'Neil. It's THERAPIE. It's therapeutic. They're all different kinds of salts. They're called Crystal Clear Smelling Salts. They're meant to clear your head and mind. My daughter loves them. I love them. They smell interesting. It's not offensive. There's some natural scent, like a spa scent. I start to sneeze. I'm sensitive to smell. These do clear your head. It's says something about inner light. I'm addicted to these things. They sell out quite often on the company website. That's in the UK but they ship everywhere.
I market to the million 'me's' out there.
Click To Tweet
They have a spray that's called Restore Aura Spray. This also smells great. You can spray it in your environment or you can spray it to your skin. It's not offensive in any way. It smells a bit of rose. I'm not too certain. It's all essential oils and whatever their combination is. They have what's called a Calm Balm and you can put it on your temples or you could put it on your wrists. I do this with it and take a deep breath. It's meant to calm you. I didn't bring them but I also use Arrae capsules.
I can't remember what happened but something not great happened a little while ago. I remember my daughter turning to me because she got me into the Arrae capsules. She loves all these therapeutic and natural herbs, ashwagandha, and whatever else is in them. There are three ingredients in the Arrae ones. Melissa Wood Health talks about them a lot. There's a debloat one, which is interesting. If your stomach feels full after you eat and you take their anti-bloat one, your stomach flattens out within half an hour. The calm ones, they do work. You can take three. I got a phone call, it has something to do with somebody needing a COVID test or something crazy like that. Before I can even respond or react, my daughter handed me three capsules with a bottle of water and I swallowed them and I walked away. They settle you down a bit.
Have you always been this into smells? I'm noticing that you love smells.
Yes, I do.
Ever since you were younger? Do you remember?
My mom used to collect all these perfume bottles. I remember her having a particular signature scent. When my parents would go out, I'm the eldest of three, so I would be in charge. I used to sit on my mother's vanity and play with all the perfume bottles. They were like Barbies. Depending on what they look like, some were girls and some were boys. I don't remember what I did but I organized everything all the time. I was always taken with fragrance and fragrance bottles and I don't know why. It's one of those things. When I think about why I love skincare, my late grandmother on my dad's side was from Ottawa. She used to come and stay with us in Montreal when my parents would go out of town. She had porcelain skin, perfect skin. She used products which, at the time, were considered expensive and that were considered prestige beauty. She used to teach me to clean my face, to cleanse it with this cleansing milk. We use water. No dirty towels or washcloths. Once it was clean, only tissue to dry it. She showed me how to use a toner. I don't even remember if she told me what a toner did and then the eye cream, and the moisturizer.
I had all kinds of gunk on my face as a little kid. I used to watch her do her makeup and she was meticulous. She would do her makeup and she'd close her makeup bag. She had a rule. Once her makeup was done and she got into the car, she never checked her makeup again for the rest of the evening. Once she was done, she was done. She never ran to the bathroom with a little makeup bag and changed things. Once she felt that it was good enough, that's the way it was. I had two grandmothers who always had perfectly manicured nails. I'm not happy with my pinkie but these are mine. For some reason, good nails run in my family on both sides. My mom's mom worked at Holt Renfrew. She was stylish and beautiful. She was surrounded by women that were into their beauty regimens and how they put themselves together.
You had never shared that story. I'm glad that you did because it's inspirational. It's like being a good role model too for your daughters. My younger daughter will kill me, she's got great skin but she hardly washes her face. I'm like, "You need to cleanse your face. You'll see." When laying in the sun, I'm always like, "Put sunscreen on. You'll see." Thank you. I do want to say one thing, and this might be a risk, but you may want to consider making a Goddess scent fragrance in the future.
I would love to make a Goddess scent. I would like to make a functional fragrance for Goddesses. I have to wrap my head around that one. I might need some input.
We can talk about that. Thank you for joining us on Favorite Things.
Thank you for having me. It was fun.
Important Links:
About Randi Shinder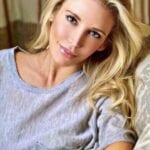 Randi Shinder – Entrepreneur, Beauty Authority, Brand Builder, Creator
Randi Shinder has remained a leading contributor and disruptor throughout her career in the beauty industry. Randi's core belief is to deliver products that fill a void in the beauty space. It is this mindset that has guided her entrepreneurial endeavours and has led her to create some of the most groundbreaking beauty brands and products within the beauty world in fragrance and clinical skincare. Randi's most recent endeavour, SBLA Beauty is a prime example of how she approaches new and exciting disruptor brand launches.
SBLA Beauty was created after Shinder realized that women first age in the neck area. After searching the beauty space for a neck sculpting solution that didn't involve a surgical procedure. In late 2018, Randi collaborated with celebrity make-up artist Spencer Barnes and transformed the market with the release of the Neck, Chin and Jawline Sculpting Wand. The three-time sell-out product has helped the appearance of more than 200,000 necks world-wide. The initial launch of the one product was an enormous success, generating over 8.3 Million in sales in the first five months of operations.
Since SBLA exploded into the digital market, SBLA has grown beyond its signature product. The newest release is the new Neck, Chin & Jawline Sculpting Wand XL. The formulation works instantly and cumulatively to melt fat, build collagen, regenerate cells, minimize lines and wrinkles and re-sculpt the chin, jawline, neck area. The company transitioned SBLA Beauty to better showcase its commitment to the science behind the beauty products and its expanding portfolio.
It is this forward-thinking and understanding of the market that has led Shinder throughout her career, beginning in affinity and loyalty marketing ventures, launching an affinity card that she groomed for acquisition by one of the largest banks in Canada as well as the first teen loyalty website – Youtopia.com, with Britney Spears as the official ambassador. Randi created virtual shopping sprees that included Justin Timberlake and at the time had the largest webcast event streaming online with Yahoo.com.
Following this early success, she turned her attention to her true passion, the beauty industry. In 2002 she launched the highly lauded CLEAN Perfume, which offered a unique fragrance experience meant to re-create everything that was the epitome of CLEAN from her personal perspective being that "women just want to smell good". CLEAN became one of the most successful independent fragrance brands and is distributed worldwide.
The success of CLEAN and extensive celebrity following led Randi to partner with multi-platinum recording artist, Jessica Simpson, to create the prestige beauty brand, Dessert Beauty, the only multi-sensory beauty experience based on scent and flavour. Dessert Beauty was the first brand to exceed $10 Million in sales at Sephora before expanding into worldwide distribution. Two mass-market offshoots of Dessert Beauty – Dessert Treats and Sweet Kisses – went into the drugstore beauty world and obtained major national distribution at Walmart.
In 2005, Randi launched the first-ever micro-injected collagen lip plumper, LipFusion, under a new sexy and scientific company called Fusion Beauty. LipFusion was an instant success and an anomaly in the beauty industry selling 3.2 million units in the first nine months at Sephora alone, including two sellouts. Fusion Beauty was the first brand to exceed $50Million in sales at Sephora. Randi then brought both CLEAN Perfume and Fusion Beauty under the umbrella corporation of Fusion Brands Inc., from which she later sold a majority stake in 2006 and later sold her remaining equity in 2009.
In 2014 Randi, along with Sophia Bush and Michael Nyman of BNC-PMK created a new, groundbreaking line of fragrance based on pure extraction and Scent Sphere technology, "I Smell Great", which empowered women to mix, match, create, reactivate – and to smell, be, feel, and live great.
It's Shinder's passion for identifying white space or voids within the beauty industry and developing products that fill those needs that have brought her to her most recent announcement: the addition of beauty icon and entrepreneur Christie Brinkley to the SBLA Beauty team and company brand ambassador. Brinkley will collaborate with Shinder as they work to launch new products in 2021 as well as begin a dialogue with women about aging in the spotlight as well as in general, providing a safe place for dialogue and innovative solutions that are both accessible and incomparable. Randi Shinder's commitment to empowering women to look their best remains as strong as ever.
At a time when the world is spending more and more time communicating via video from the neck up, she continues to disrupt the beauty space with products designed to provide immediate and long-lasting cumulative effects to provide beauty, empowerment and self-confidence for women globally.
Randi has received many industry awards and recognition from her chosen industry and thrives on her entrepreneurial spirit to this day.
Love the show? Subscribe, rate, review, and share!
Join the Grateful Goddesses Community today: